15 September 2023
PRINCIPAL'S REPORT
Hello St Patrick's families,
Wasn't yesterday's Colour Fun Run a great way to finish the term! I have never been involved in a school based colour run before and I was so happy to see how much the students enjoyed it and how much an event like this benefits our school. It was another fantastic example of how important the work of the Parents & Friends Committee (P&F) is to our school, and how the success of our school is linked to and supported by our P&F. Our P&F organized and ran yesterday's event not just to provide a fun experience for our students, but also as a way to raise funds for the purchase and installation of a new drinking water cooler system in the MPC for our students. Considering how hot this summer is shaping up to be, the new water cooler will be a big winner with our students so, I want to thank the P&F executive of Candice Cross, Lisa Southern, Pip Luck and Jade Vickers, and to Laura Ballin and to the representative of the St George QFS, the St George QPS and St George Ambulance Service who so generously gave their time to make sure our students had a great afternoon.
In recognizing the good work of the P&F, I again want to recognize how other P&F events throughout the year have also raised money for the purchase of new student reading materials and, most recently, the purchase of new laptop computers for our students to use in class (see below for more details on this). The P&F, with the support of all our families, do so much for our school and I just want to take this opportunity to say thankyou again. I also want to encourage other families who aren't involved with the P&F to put up your hand and come and get involved. It's an opportunity to be a part of a great group of people and support the school in supporting your children.
2024 APRE Appointment – Welcome Mrs. Anna Chandler
I am pleased to announce that, after a recruitment process supported by members of the Toowoomba Catholic Schools Office, Anna Chandler will be taking on the APRE role at St Patrick's in 2024, in a permanent capacity. I have spoken with Anna and know she and her family are very excited to have the opportunity to join our community in 2024. I look forward to welcoming Anna to St Patrick's and know our school community will join me in making her welcome too.
St Patrick's Outside School Hours Care (OSHC) Application Update
The schools OSHC application has been completed and submitted with the support of the Toowoomba Catholic Kindy & Care team. This has been a lengthy process as strict government regulations apply to OSHC facilities and the use of those facilities. Indoor and outdoor spaces must meet minimum size requirements and compliance directions and/or fines may apply in cases whereby legislative standards or safety compliance are not achieved. At this point, the TCKC team do not see a reason why our application wouldn't go ahead and are considering beginning the recruitment process for staff in early/mid Term 4. That said, the application has still not been approved so, although it is looking positive, I am still not in a position to make a formal announcement that we have been successful. Lets all keep our fingers crossed!
THANKYOU P&F! – ICT Computer Bank Purchase
In the past two years we have seen a big increase in faults/issues in two of our three student computer banks. With this in mind, and after conversations with our school IT Tech, I have recently approved the purchase of two new sets of computers for the upper school, with the purchase totalling $78,000. We had only budgeted for the school to buy one set of computers this year, so the P&F have very kindly agreed to donate $40,000 to pay for the second set. This is a very generous act from the P&F and will play a huge role in supporting the learning of our students across the school.
Demountable Sale & School Master Plan Progression
The school demountables have been sold to one of our TCSO sister schools – Mary MacKillop College Highfields – with a date for removal to be confirmed but most likely taking place in late Term 4 of this year. This sale is a really exciting opportunity for the school as it opens the potential for us to progress our Master Plan and begin the process of planning to replace the older buildings in the school. The first steps in this process would be to engage with architects/planners and the community to put together a building plan for the school, and it is realistic that this process could begin in Term 1 of 2024. I will continue to keep the school community up to date with this process as it progresses.
It is envisioned that the computers will be up and running for 2024, with the outside chance they may be available later this year.
That's all from me for now, have a great holiday, stay safe and I'll see you in Term 4.
Jim Wren
SKOOLBAG APP
Dear Parents/Carers
Our school uses the Skoolbag app for iPhone and Android, to help us communicate more effectively with our Parent community. We are asking parents to search for and install the Skoolbag app.
Once you have installed the Skoolbag app from either the Apple App Store or Google Play Store just search for our school's name St Patrick's Primary School St George.
For Windows users search for Skoolbag in the Windows Store, install the app, and then find our school. Please note it must be a Windows 8.1 or 10 device.
Please check the flyer below for instructions.
OUR PRAYERS…
Let us support each other in Prayer, especially for the Sick and the Deceased and those who are suffering Hardships, in our Parish and School.
APRE News
Acting APRE
Week 10: Evie Bradfield
Oh my, hasn't Week 10 arrived quickly! I've had such a great time getting to know the St Patrick's School community this term and I am excited to continue working with you all in Term 4. Thank you so much once again for making me feel so welcome!
The week has finally arrived for our Colour Fun Run! Thank you to the P&F for their wonderful work organising such a fun event for our school community.
Term 3 Reflection
Week 10 each term is always a good opportunity to reflect on the term that was! My highlights of my time so far at St Patrick's include …
Feast Day of Mary MacKillop
In early August, St Patrick's School joined with Australian's and Catholics across the world celebrating the Feast Day of Mary MacKillop. Not only is Mary significant as she is Australia's first saint, but she is also special to our school which was founded by the Sisters of St Joseph, which Mary was instrumental in forming. Mary's Feast Day this year was a great opportunity to reflect on our school prayer and Mary's famous quote … never see a need without doing something about it.
Father's Day
It was so lovely to have so many adults come and share Father's Day with our St Patrick's School this year. Mrs Colley and 3C did a fantastic job leading our school in prayer to celebrate Father's Day. Thank you to our P&F for putting on such a wonderful BBQ breakfast and doing a super job running the Father's Day Raffle.
Reconciliation
Last week, a number of students made their Sacrament of Reconciliation. A big thank you must go to Mrs Eley and Mrs Morris for preparing the children for this special milestone and to Father Anthony for guiding the children through this special moment in their Sacramental journey.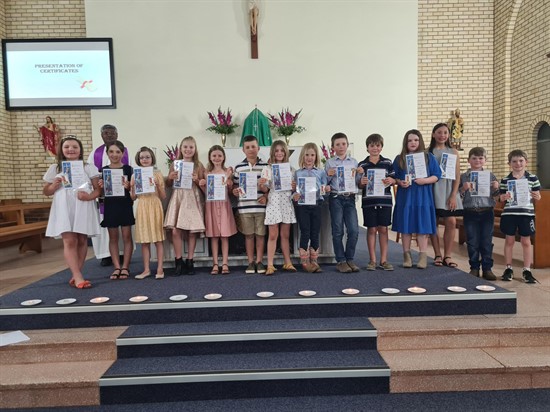 MASS TIMES
St George-Dirranbandi Parish
Priest Administrator: Fr Anthony 0409 278 968 Email: balonneparish@bigpond.com
Date
Time
Details

Daily Mass (M-F)

7.00am

St Patrick's Church, St George.

Daily Rosary (M-F)

11.00am

St Patrick's Church, St George.

Confessions

On Call

Call - 0409 278 968

Holy Communion & Visits to Sick at home

Wednesday

Call - 0409 278 968

Saturday 16th September

6pm

Vigil Mass, St Patrick's Church, St George

Saturday 17th September

8am

Sunday Mass, St Therese Church, Dirranbandi

Saturday 17th September

10am

Sunday Mass, St Anne's Church Thallon (TBC)

Sunday 24th September

8:30am

Sunday Mass, St Patrick's Church, St George

Sunday 24th September

11am

Sunday Mass, Immaculate Heart of Mary Church, Bollon (TBC)

Saturday 30thSeptember

6pm

Vigil Mass, St Patrick's Church, St George

Sunday 1st October

8am

Sunday Mass, St Therese Church, Dirranbandi

Sunday 1st October

10am

Sunday Mass, War Memorial Hebel (TBC)

Sunday 8th September

8:30am

Sunday Mass, St Patrick's Church, St George
CLASS News
Peeking into PrepM
Students of the Week
Week 9: Ava Lamb and Charlotte May
Week 10: Lucy Wren and Sophie Bradfield and Eliza Hearne

Dear Parents,
We have made it! I am not sure about all of you, but I know my family are ready for the holidays and some slow days.
Each year every class in the school presents a dance at the annual Parish fete which is held on the first weekend in November. This year it is Saturday the 4th of November. For our dance, the children are to wear denim or dark shorts with a bright-coloured t-shirt. Preferably the t-shirt is to have no images and be one solid colour. We will make some bright-coloured wristbands at school to wear with our outfits. I will provide more information regarding the fete next term, however, I wanted to give parents time to organise outfits.
Term 4 is a very busy short term with lots happening, so I encourage you to look at the school calendar and ensure you have entered important dates into your diaries. It is at this time of year that I start to feel the emotions as we think about preparing the Preps for the next stage of their learning journey and reflect on how far they have come this year. With that in mind we wish you all a very relaxing and enjoyable holiday and once again thank you for your ongoing support.
Many thanks
Nichole & Courtney
Peeking into Prep & Year 1H
Students of the Week
Week 9: Kyla Saunders, Maddie Sheedy and Duke Wuersching
Week 10: Mia Kennedy, Kayleigh Hawthorn and Caleb Burton

Welcome to week 10!
During Math we are continuing to work on addition and will focus on subtraction the first two weeks back of next term. The students are enjoying learning about this concept. We have also been talking positional and directional language. We have been learning the difference between our left and right as well as discussing what does next to, inside, on top, behind and in front of mean. This week we have been using this information to follow directions to an object.
In English the students have been working on writing simple sentences about a picture. They have been using their knowledge of nouns, verbs and adjectives to write these sentences.
In HASS we have been focusing on what a special place is and how we care for this place. We have decided we will care for the eating area outside our room and pick up rubbish after lunch breaks to keep it clean and tidy.
Have a wonderful holiday and we look forward to seeing you for our last term for 2023.
Kind Regards,
Fiona & Kira
Year 1D
Students of the Week
Week 9: Xander Behrend and Avril Easton
Week 10: Sonny Cross and Thomas Walker
Hello Year 1 families,
Another term, done! I think it is safe to say all students are ready for a break.
In English, we have started learning how to use a dictionary. Students have really enjoyed learning this new skill. Students are continuing to recognise nouns, verbs and adjectives in texts. I am so proud of the amazing writing that students are producing.
We have continued our learning of addition and subtraction and have started learning about equal sharing. We have used hands on tools and stories to help students understand this concept.
On Tuesday, Year 1 held our very own "Information Centre Visit". This was a great success, students were very excited by all the visitors that came in. This event concludes a very busy term of learning all about our community and the features that make St George the wonderful place it is.
Thank you all for another great term. Have a safe and restful break.
Kind Regards,
Miss Beth Daly
Year 2W
Students of the Week
Week 9: Brayden Ryan, Hailey Easterbrook, Oscar Acton and Samuel Laxamana
Week 10: Zara Rhodes and Ivy Vickers
Dear Parents and Caregivers of Year 2W,
We have had a wonderful term of learning and students have worked consistently throughout the duration. It is so pleasing to see their growth and development and their joy of learning.
Congratulations to you all we had 100% attendance at the Parent Teacher Interviews, and I thank you for your effort to attend these.
Key take aways from these
Check in to see your child's homework to view the maths problem solving which is new to their homework
Continue reading daily- I read you, your read, we read together.
Continue returning home readers each Wednesday so students can update their readers.
Big focus on spelling, handwriting, letter and number formation and general presentation in Term 4
Colour Fun Run Thursday 14th Sept
We can continue fundraising up to the day
Wear old white – to see the colours
Bring a towel to travel home on the bus or in the car!!
Don't forget hat and water bottle
Thank you for your support this term.
Kind regards
Christina Wardle
Year 3C
Students of the Week
Week 9: Indie Irwin and Ameliah Hawthorn
Week 10: Abigail Tierney
Welcome to the end of Term 3. This term certainly has gone by quickly. Year 3 have finished off this term by integrating English and Digital Technologies. We have planned, drafted, published and presented an information report about unusual animals, from the yeti crab and dugong to the pangolin and pink fairy armadillo. Students have started learning how to research and take notes which they then turned into sentences and paragraphs. We then created a power point with information slides and pictures. The next step was to incorporate our digital technologies by using a contents slide with hyperlinks to take the reader to different slides within the power point. Students have really enjoyed taking their knowledge to the next level. In the next few days, each student will present their information report orally to the rest of the class. I would like to take this opportunity to wish everyone a happy and relaxed holiday and I am looking forward to working together again in Term 4.
Kind regards
Annette Colley
Year 4/5 R
Students of the Week
Week 9: Gus McCosker
Week 10:
Dear Parents and Caregivers,
The term has flown by, and we now have only one term left until the end of the year. Congratulations to all who participated in the public speaking event on Wednesday. Well done for putting in the effort to not only write but also present your speeches.
Class 4/5R thoroughly enjoyed participating in the Colour Fun Run. A special thanks to the P & F for organising such a wonderful event. We all genuinely appreciate the efforts put in to make this event happen.
The next term is set to bring many exciting events, including the Swim Block and Fete. I am especially looking forward to practicing our dance routine in preparation for these events.
I wish you a restful and safe break. We eagerly look forward to welcoming everyone back for the new term.
Kind regards,
Miss Alice Rathie
Year 5/6A
Students of the Week
Week 10: In Miss. Armstong's absence we'll save these for next term!
In her absence, the whole year 5/6 class just want to say a big "Good luck and congratulations!" to Miss. Armstrong on her big day tomorrow! I know this has been a long time in the planning, so we all hope she has a great day.
We also want to wish Ben Irwin well as he transitions to Mary MacKillop College in Toowoomba next term. Good luck Ben and have a terrific Term 4!
Mr. Wren
Miss Claire Armstrong

Sport & Library News
Eley Elite
Week 9: Mackenzie Hyland
Week 10: Kai Satchell

Book Fair
Book fair is once again coming to our school in week 3 of Term 4. 17th October – 20th October. Opening hours will be as follows:
Tuesday: 3.15pm – 4.00pm
Wednesday: 8.00am – 9.00am
Thursday: 3.15pm – 4.00pm
SPORT
Congratulations to Peter Behrend who was successful in selection in the South West Athletics team to attend the State Carnival in Brisbane in October. We wish Peter all the best.
Swim block will be held in term 4, week 6. 6th November to the 10th November. The St Pat's Swimming Carnival will be held on the 24th November with the IM's being the morning of the 23rd November. More information to follow next term.
LIBRARY
Borrowing days are as follows, so please try to remember to send along library books:
Tuesday

Wednesday

Thursday

PrepMc

Year 1D

Prep/Y1H

Year 2W

Year 4/5R

Year 3C

Year 5/6A
Happy borrowing and reading!
Reading is Power and Knowledge! Happy borrowing and reading!
Binnie Eley & Julie Pike
P&F News
What a day for our Colour Fun Run! A massive thank you to all our Service Men and Women who joined our parent helpers in making it the wonderfully successful afternoon that it was. Without your help, these days cannot happen. The children absolutely loved it, and we equally enjoyed putting it on for them.
We are well on our way to raising the funds needed to install and plumb rainwater to the bubblers at the MPC building. A whopping $17,700 has been raised so far! What a cracking effort by our incredible St Pat's School Family.
Fundraising is still open over the school holidays, so if you haven't quite reached your goal you can work towards it over the break. Prizes can be ordered from Friday 15 September, and you will have until Friday 6th October to finalise these.
If you need any assistance, please send an email through to stpatrickspf@outlook.com and we will do our best to help you, or point you in the right direction.
Once again, thank you for your continued support and enjoy the break with your families and friends.
Kind Regards,
The P&F Committee
Community News